The second phase of the Portugal Industry 4.0 Programme intends to have a truly transformative nature and a wide reach, extending the impact of the benefits of the adoption of the 4.0 paradigm by the national business sector.
With a time horizon of one decade, until 2030, the initiative aims to requalify and train more than 200 thousand workers, involving about 20 thousand companies. The financing of more than 350 mobilizing projects are also planned.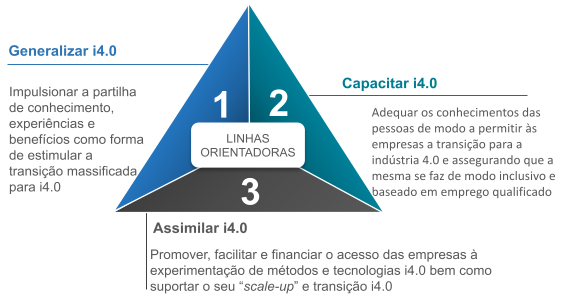 The new approach involves three guidelines:
Generalize i4.0: Stimulate the widespread sharing of knowledge, experiences and i4.0 benefits between companies, technological suppliers and institutions;
Train i4.0: Adapt the skills of human capital to the reality i4.0 through i) academic offer of training in digital skills and ii) requalification of the existing workforce, namely due to a new impetus for collaboration between companies and training entities ;
Assimilate i4.0: Promote the experimentation and adoption of i4.0 solutions and technologies by facilitating access to technical skills and the financing necessary for their implementation.
Advantage Portugal 4.0 Project File – Integrated approach to growth and innovation 4.0 for Portuguese SMEs
The Project of national scope has as its main objective to train SMEs for structured and integrated processes to approach innovation and business transformation in the context of global value chains contributing to the benchmarks of strategic targets of Phase II of the Industry 4.0 Programme.
Main Activities:
-Organization of availability of 4.0 services
-Tools for an integrated approach to business growth for innovation
– Activation of COTEC training service distribution networks
-Strengthening collaborative relationships with international innovation hubs
Eligible Investment Amount: 2,515,200
Start: 01.01.2020
End: 31.01.2021