Work 4.0 is not just a consequence of new technological developments in industry 4.0. It refers to the work of the future, in all its breadth and diversity. The changes made possible by technology are only an important factor in Work 4.0. We are facing a fundamental cultural change that also contributes to the emergence of new ways of working.
In addressing the theme of Work 4.0, the objective of COTEC EUROPE SUMMIT 2018, bringing together representatives of Portugal, Italy and Spain, COTEC organizations, companies, their stakeholders and EU institutions on 7th February 2018 at the Mafra Convent is to contribute to the strengthening of an emerging dialogue between all those involved – companies, unions and other workers' representatives, government officials and academics – on how we want to shape the work of the future, in all its breadth and diversity, in a way that it benefits people and businesses and advances the economy at the European Union level.
The debate that took place at this conference entitled "Work 4.0 – Rethinking the Human-Technology Alliance" was fuelled by investigations carried out by the three COTEC organizations. COTEC Spain focused on education, COTEC Italy on technological convergence and its impact on the circular economy and COTEC Portugal focused on laying the foundations for an informed view of industry 4.0, the variables that are at work and the possible impacts on the future of work.
Consult the reports produced
Work 4.0 | Transition model
COTEC Europe Summit 2018 | Debate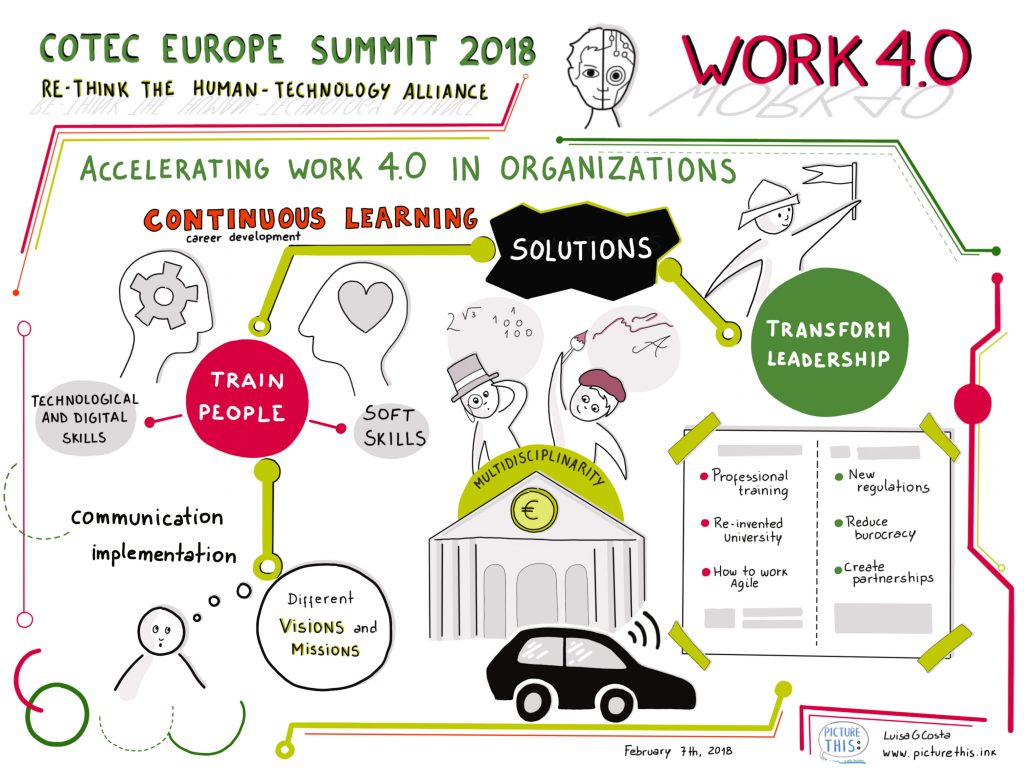 COTEC Europe Summit 2018 | Photographs